How to Recover From Ransomware: Can Your Business Survive a Ransomware Attack?
When your business is hit by crypto-malware, you become keenly aware of just how little preparation and planning you have done to prevent your data from being compromised. SonicWALL reported Ransomware Attacks on businesses of all sizes reached $638 million in 2016, a considerable uptick from the $3.8 million reported in 2015.
The exponential growth can be easily attributed to one factor, its effectiveness.  The first quarter of 2016 alone garnered $209 million in paid ransoms from businesses. 2017 is predicted to continue the meteoric rise and increased liability to businesses who fall victim to this highly volatile malware.
Small & Medium Sized Businesses are particularly vulnerable targets, as we've discussed before, their security budgets are typically nominal with a higher rate of success for infiltrators. A few of our clients have experienced the misfortune of these forms of attack.  Luckily, they had taken the time to implement the proper preparations and security tools, allowing them to quickly recover without being held captive by a malicious party.  Learn the steps you can take to protect your business…
What is Ransomware & How Do the Attacks Infiltrate My Network
While the topic of Ransomware is nothing new, a brief overview is always helpful.  Ransomware is a type of malware which encrypts your data and holds it for ransom for payment in the hopes of receiving a decryption key. Unfortunately, there is no guarantee your data will be handed over even after payment.  You can learn more from our other stories here, as well as here, and here.

While there are many ways in which an attack can be delivered onto machines and devices within your network, there are two which stand out as the most common.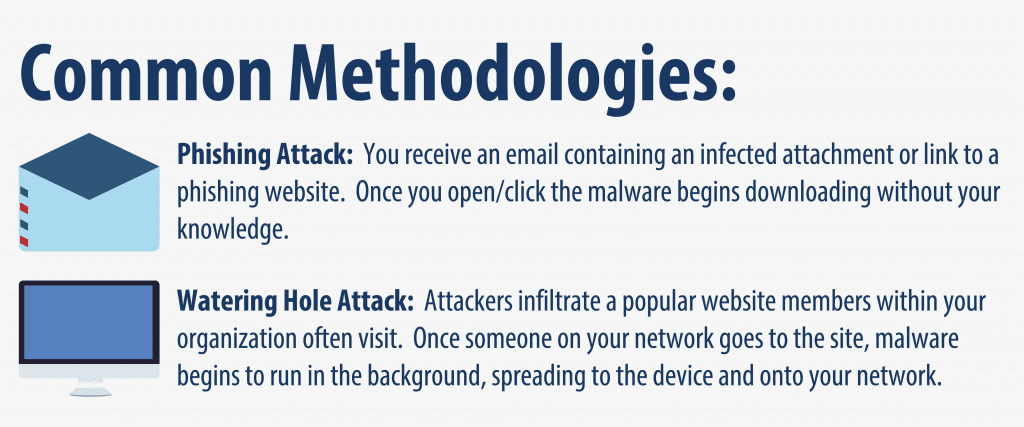 One of the most important things to remember is that a Ransomware Attack aims to encrypt a wide range of devices.  This includes PCs, Macs, Android and Smartphones, as well as Virtual Desktops.  It is also important to understand that if the device in question is connected to a network drive, then all data and files can quickly become compromised.  Regardless of the operating system or the administrative rights/restrictions of the user.
Paying the Ransom Is Only the Beginning
The payment request from cybercriminals is only a small representation of the total cost to your business.  Losing access to all customer data, sales records, and financial information, can bring entire business operations to a halt until your network can be brought back online.  We live in the 'information age' so even a temporary shutdown can result in a loss in sales, productivity, as well as the costs associated with recovery.

The loss is even more devastating in the event of permanent data loss when an organization is ill-prepared to manage such a far-reaching attack.  It can permanently reduce new business opportunities over the long term and open the possibility for intellectual property/design data to be released for public consumption, diminishing the competitive advantage you had before the breach.
How to Protect Your Business
When discussing the ways to protect your business from the onslaught of attacks, a few areas are often neglected, but play an equally vital part to the overall protection of your network.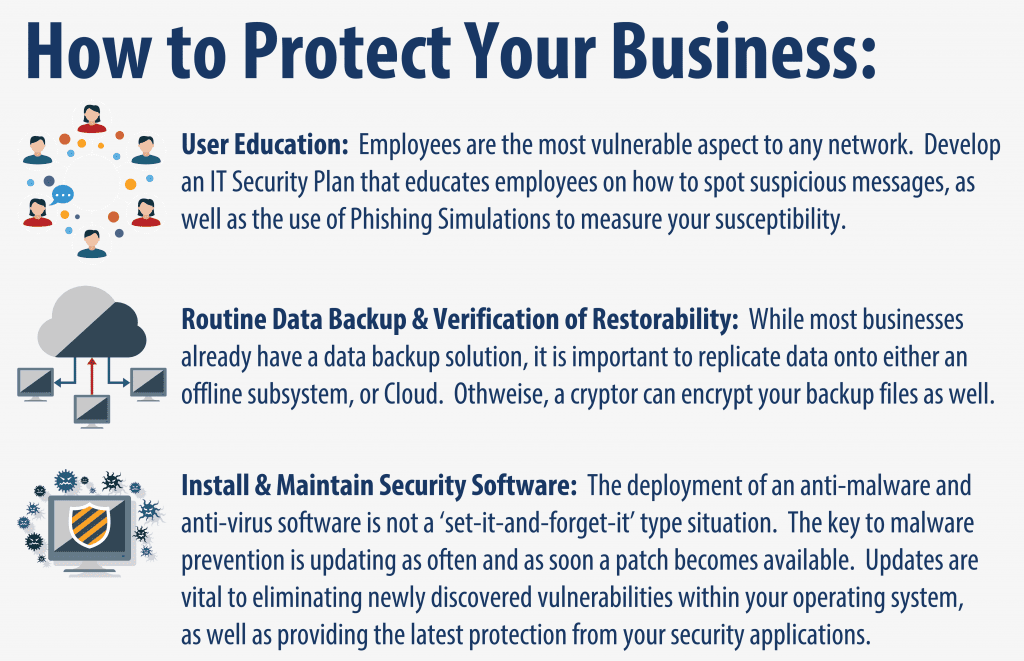 Get a Real Security Solution
TSI offers a wide-range of award-winning security products delivering multi-layered solutions to protect your business against advanced threats, including Ransomware.  To learn why our clients trust our security experts to not only identify vulnerabilities, but maximize protection, including complete employee education programs, Contact Us today!