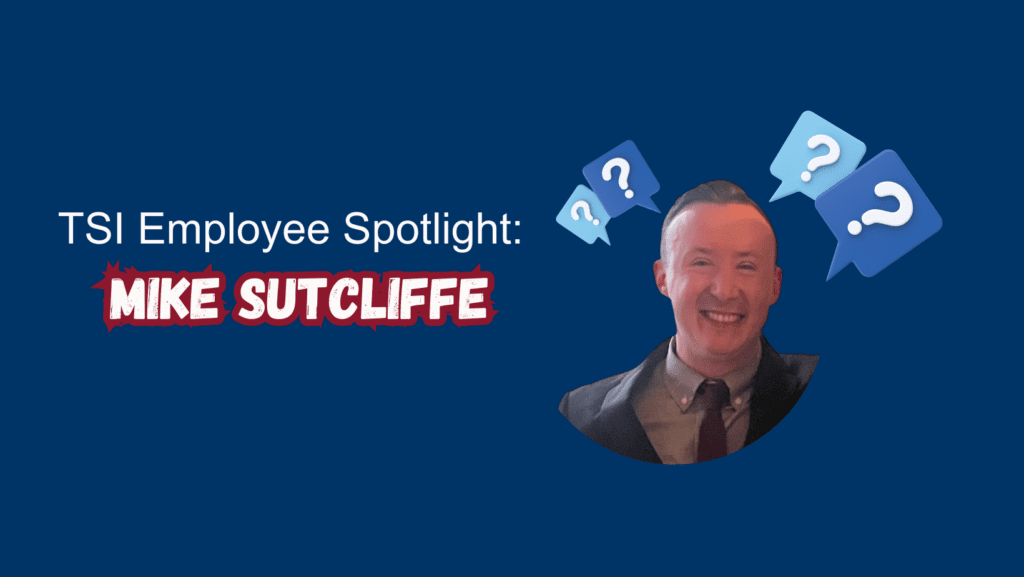 TSI Employee Spotlight: Mike Sutcliffe
We are extremely pleased to introduce our latest team member, Mike Sutcliffe as an IT Security Specialist . Mike brings many years of hands-on IT experience with deep knowledge in systems administration, networking, and security.  Most recently and since 2012, Mike held a Lead IT role where his daily responsibilities involved end-to-end IT including installations, problem resolution, and administration.  In addition to Mike's IT acumen, he has worked within fast-paced managed services environments including those using ConnectWise and IT Glue.
Tell us what inspired you to get into the IT/cyber-security industry? 
I was the last kid in my 6th grade class to have a computer. Sad. When I finally got one, I was curious and looked in all the folders and played around with a bunch of settings and blue screened it. I looked up how to fix (Rebuild) it and when I did, I felt a huge sense of accomplishment. Shortly after, 56K modems came out so I earned money to buy one and installed it. It was around that time that I knew I could see myself doing that for a living.
2. Describe yourself in 3 words.
 Empathetic, Resourceful, Grateful
3. How do you gauge success?
Success is measured by being able to problem solve. We all like to help others and get paid for it. The greatest successes come after failing first and sticking with it instead of giving up. Working with small business is great because you can identify people AS people instead of a number or title. You can speak about things as if you know them and they know you. You can create lasting impressions.
4. What are some of your hobbies outside of work?
I've been playing drums since I was 14 and I was natural at it. I taught myself and I love to play even now at 40. My old band almost made it back in 2002.
5. What's your favorite food?
My mom's Lasagna
6. What is your favorite quote and why?
"Better to have loved and lost than to never have loved at all."  I believe we're all here to find a mate to live and love with. To share a life together with someone you relate to. A best friend for life. 
7. What celebrity or historical figure- past or present- would you like to meet over a cup of coffee and why?
George Washington because his actions made such an impact on this land we're on to live freely and happily and forge our own path instead of an overbearing government choosing things for us. I'm living the American Dream which I truly do appreciate.
8. What is something that most people don't know about you?
I'm an open book and wear my heart on my sleeve. No secrets and no mystery. 
Born at Sturdy Memorial in Attleboro in 1982, I lived most of my life in the RI/ Bristol County area. I'm an only child but not lonely. I was fortunate to have lots of friends my age, on my street growing up with me and two loving parents that took me on vacations all over the place. I had a typical upbringing and excelled at school. I got into drums at 14 and played in Rock n Roll bands as well as the Attleboro High School Marching band leading the percussion line playing the Snare.