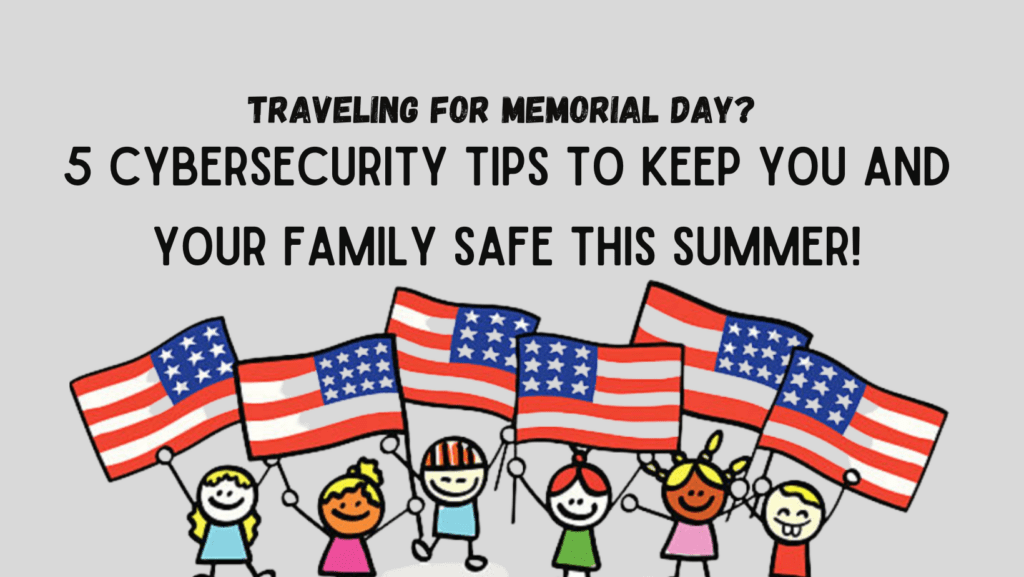 Traveling for Memorial Day? 5 Cybersecurity Tips to Keep You & Your Family Safe this Summer!
Traveling for Memorial Day? 5 Cybersecurity Tips to Keep You & Your Family Safe this Summer!
Cybersecurity is a crucial aspect of our lives that we cannot afford to neglect especially when our guard is down on vacation! While vacations are meant to be a time to relax and unwind, they can also present opportunities for cyber criminals to exploit our vulnerabilities. In this article, we will provide you with five essential cybersecurity tips to help you stay safe and secure while enjoying your vacation. By following these tips, you can ensure that your personal information and devices remain protected throughout your travels.
Be cautious when using public Wi-Fi: Public Wi-Fi networks can be a breeding ground for cyber attacks, so avoid using them whenever possible. If you must use public Wi-Fi, make sure to connect to a virtual private network (VPN) to encrypt your internet traffic and protect your personal information.
Keep your devices secure: Make sure to lock your devices with a strong password or PIN, and enable two-factor authentication wherever possible. Additionally, keep your software up to date and install security updates as soon as they become available.
Avoid oversharing on social media: Posting about your vacation on social media may seem harmless, but it can make you an easy target for cyber criminals. Try to avoid posting about your whereabouts in real-time, and wait until you've returned home to share your vacation photos and stories.
Keep your valuables secure: Cybersecurity isn't just about protecting your digital information – it's also important to keep your physical belongings secure. Don't leave your devices unattended in public places, and consider using a hotel safe to store your passport, credit cards, and other important documents.
Be wary of phishing scams: Scammers often use vacation-related scams to trick people into giving away their personal information or money. Be on the lookout for suspicious emails, texts, or phone calls, and never give out personal information unless you are certain it is a legitimate request.
In conclusion, cybersecurity is an essential aspect of our lives that we cannot overlook, even when we are on vacation. Remember to be cautious when using public Wi-Fi, keep your devices secure, avoid oversharing on social media, keep your valuables secure, and be wary of phishing scams. With these precautions in mind, you can ensure that your vacation remains a memorable and enjoyable experience while staying safe and secure online. As always, TSI is here as your cybersecurity partner, so please never hesitate to contact us at any time to learn how to better safeguard your personal or professional digital assets. For more information, please visit our cybersecurity services page here: