Information Technology Trends and Cybersecurity Trends: The Rise of Co-Managed IT
It's no secret that technology moves fast. But what a lot of people don't realize is that the very idea of what it means to be an IT professional often changes just as quickly.
When my father started TSI Support in 1989 and before the advent of managed services, all MSPs were essentially the exact same thing – computer fixers. They would sit back with their fingers crossed, just waiting for those support calls to come in. The climate we operated in those days was totally different from the one we have now. Not only were there far fewer cyber security issues to deal with, but there were less compliance-related matters to concern yourself with, too – whether they're vendor or regulatory compliance driven.
Today's cloud technologies certainly didn't exist, which meant that all hardware still existed totally on-site. If a client had a problem, you got in your car and you drove to their office to fix it – if you couldn't handle it remotely, that is.
All told, the business and even the consumer IT market was far less demanding than it is now. This was a time when most companies (although some shockingly still do this) operated on the IT support model of hiring a dedicated IT person to literally sit in the server room all day, only coming out to troubleshoot issues .
Clients were also far slower to embrace what then-modern IT had to offer them in the first place. One of our clients has grown considerably since he met with my father in the early 1990s, but I'll never forget the story of that first encounter. The client wanted to use technology to enable better communication for his employees and clients, so naturally my father suggested the "new innovation" of email. The client looked at him and said "that's just a fad – absolutely nobody will buy into that!"
Oh, what a difference a couple of years makes.
In the first of this two part series, we'll discuss the state of IT as it exists today – and just how far we've come. We'll also get into an overview of what co-managed IT services actually are. In part two, we'll discuss the situations in which co-managed IT might be something you want to consider… and how to identify when the time has come to make this jump for yourself.
The Times, They Are A-Changing…
Flash forward to today, and nearly every aspect of IT has evolved – often in ways we never would have been able to predict just a few short years ago.
To say that cyber security is far more volatile than ever, for example, is a little bit of an understatement. We're no longer dealing with quaint little "Nigerian Prince" scams any longer. It's estimated that 350,000 new strains of malware hit the Internet every single day. But more than that, the stakes have never been higher and the impact has never been more severe if you aren't careful.
Cyber security researchers indicated that in 2019, the average cost of a data breach can range from between $1.25 million to an all-time high of $8.19 million in some cases – depending entirely on the extent of the damage and the number of records exposed. In the old days, we would have addressed this problem with a solid antivirus suite – but the days where that was an adequate response are over.
Today, education is the key – your employees are your first line of defense against the people who want to do your business harm and they need to be up-to-date on all the latest threats so that they know how to avoid them from the start.
Compliance has also changed enormously, in terms of both vendor and regulatory-driven issues. Ignorance is becoming a mute reason for ignoring the complexity of the cyber landscape. Citizens and government organizations alike are holding companies accountable for the integrity of the data they posses – which means that all of this needs to become one of YOUR number one priorities whether you like it or not- sorry!
But the truth is, consumer IT and business IT have also become one and the same. Employees work more remotely than ever, meaning they have access to data from any time through any device. This presents incredible security and data integrity issues that should be managed. Oftentimes people THINK they can adequately do that because they "have their own in-house IT people." But of course, that isn't always the case.
That is also the point where the argument FOR co-managed IT becomes a very compelling one.
If You Don't Keep Up, You WILL Get Left Behind
A co-managed IT provider is one who comes into your business not to replace your own IT people, but to augment them and support them. Oftentimes this is necessary because significant changes to the IT landscape occur daily, which means that training needs are increasing in complexity and volume, too.
With the level of cyber security and compliance issues the modern business now faces, a new level of expertise is required. It's essentially impossible to hire a single IT person – or even a few of them – to work in-house who can master in every last thing you need them to be. This is precisely where a co-managed provider can come in handy.
At TSI, for example, we have not only cyber security specialists but also network specialists, Office 365 specialists – you name it. It's impossible for any one person to have ALL of these skills. You don't want a "Jack of All Trades, Master of None" situation on your hands. As we all know, even the smallest oversights can significantly impact not only the success of any given project, but an organization's exposure to cyber risks.
In order to minimize the chances of this happening, IT professionals need routine training to stay up-to-date. This is incredibly expensive and requires completely different skill sets than you're used to. With the advent of legislation requiring the expertise of a CISO for GDPR, the role of IT professionals is regularly shifting because companies DEPEND on this type of expertise to exist in today's business environment.
All of these risks would be difficult – if not impossible – to mitigate on your own while you're also trying to run a business. But luckily, thanks to co-managed IT, you don't have to.
To find out more information about the broader implications of such an important strategic partnership, join us for part two of this two part series on when co-managed IT is right for your business.
If all of this sounds similar to the way you look at IT, terrific - there's a chance we might be able to help. At this point, I suggest contacting either myself or a colleague at TSI to schedule your "getting to know you" phone call. That way, we can make sure that our organizations are a good fit for one another so that we can get started on creating a true relationship moving forward.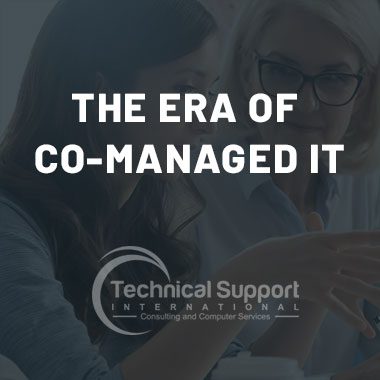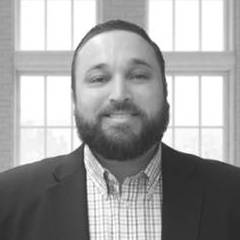 Vice President Sales & Business Development
Jeremy Louise serves as Technical Support International's VP of Sales and Business Development. In this role, Jeremy is responsible for all of TSI's new business and plays a central role in the vision and overall strategic direction at TSI. His personal and professional experience growing up in the family business not only contribute to TSI's continued success, but its emphasis on understanding SMB needs and the technology solutions needed to accomplish their objectives. Prior to his role as VP Sales, Jeremy earned his MBA from UIBS Belgium and his bachelor's degree from Hobart College in Geneva NY. When not working with clients helping navigate today's constantly changing technology landscape, he is out on the water fly fishing.