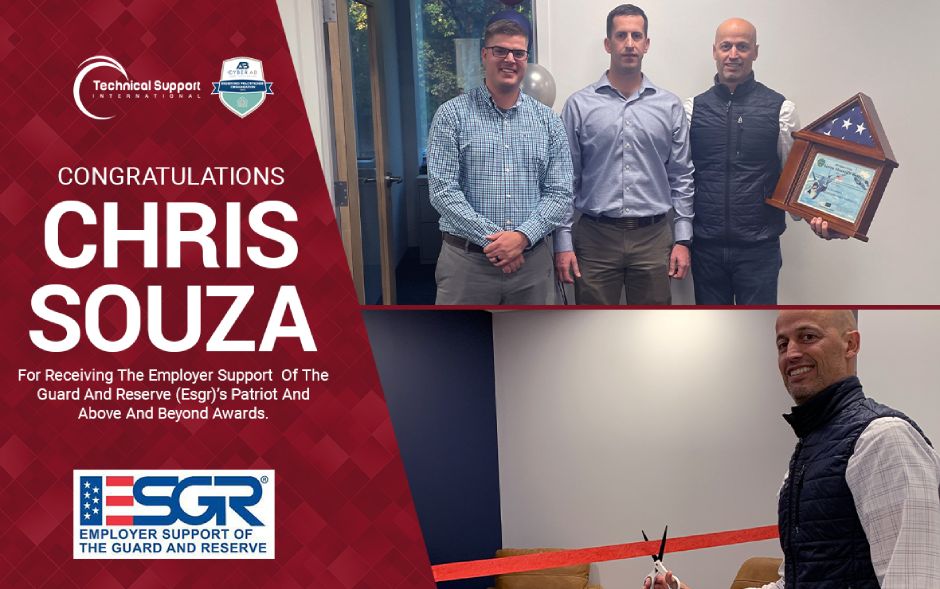 Employer Support of the Guard (ESGR) Awards TSI and It's CEO
Technical Support International (TSI) is proud of its history of supporting our country's armed forces, veterans, service members and military families. We have been fortunate with continued growth in our cybersecurity practice area and these accomplishments are not made possible without our core team of talented employees. Many of our employees have dutifully served our country and continue to be called upon at a moment's notice. Their dedication and commitment are extraordinary, and as an organization, we have tried to show our appreciation in ways that are meaningful – to our employees, and to their families and loved ones. It is with this in mind that we share what is arguably one of TSI's highest honors and recognitions.
Awarded Employer Support of the Guard and Reserve (ESGR)'s Patriot Above and Beyond Award
It is our sincere pleasure and honor to share that TSI and our CEO, Chris Souza, have been awarded Employer Support of the Guard and Reserve (ESGR)'s Patriot and Above and Beyond Awards! We couldn't be more honored and appreciative for being nominated by our TSI employees with reservist duties.
Nomination Consideration
These nominations are submitted to the Office of the Secretary of Defense for review, and only if approved, are they awarded to Civilian Employers employers for their commitment and support to actively serving staff members. We sincerely thank our current – and future- service members for their commitment to TSI and for their service to our wonderful country.
To learn more about these exciting accolades, please visit ESGR's Award Pages:
ESGR Service Member Patriot Award