Network Security Threats: Data Breaches Up 29 Percent Over Last Year
Data breaches are running 29% above last year, according to a report released by the Identity Theft Resource Center and Cyberscout.  Hacking was the leading cause of data breaches nationwide, more than 790 so far this year.
More than 12 million records have been exposed, although two-thirds of data breach notifications or public notices did not report the number of records compromised. "Only 33 percent of data breaches reported this year have made the number of records exposed publicly available," said Karen A. Barney, director of research and publications at Identity Theft Resource Center, an increase of 13 percent over 2016 mid-year numbers.
The resource center tracks breaches in the categories of financial, health care and medical, government and military, education and business.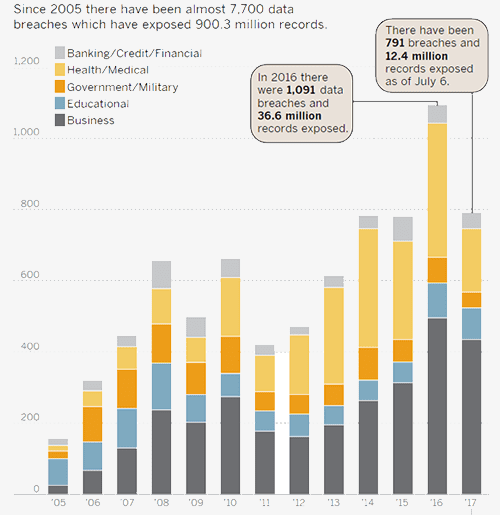 Source: Identity Theft Resource Center
More than half of all beaches this year have occurred in business, followed by health care and medical. Breaches in the medical and health-care industry are most likely to include the number of records involved. More than 80 percent of breaches in 2017 that were reported to Health & Human Services included the number of records. 28 percent of data breaches lead to fraud.
Learn More
You can read more about the report at the San Diego Union Tribune. To learn how we can help your organization protect against potential data breaches, Contact Us today!