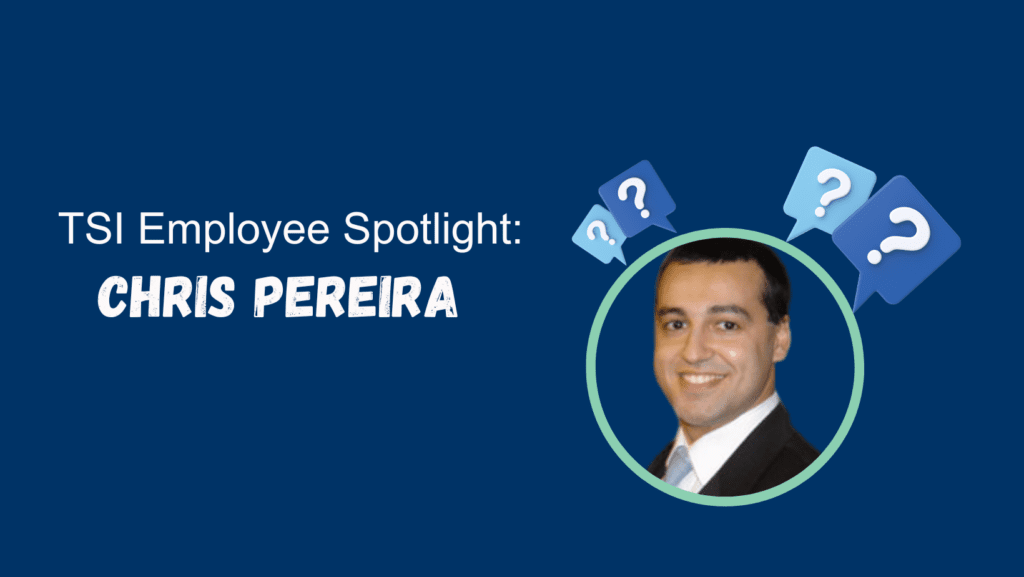 TSI Employee Spotlight: Chris Pereira
We are extremely pleased to introduce Chris Pereira as Director of Sales and a new member of our growing team! Chris brings over fifteen years of IT sales success in corporate training, consulting & SaaS.  He is very excited to share his experience and help TSI grow while assimilating into a great team of professionals.  His passion for onboarding new clients, helping SMB's grow and delivering superior professionalism builds career-long clients and relationships.
He is an Afghanistan veteran who serves in the Air National Guard as a Senior Non-Commissioned Officer.
1. Tell us what inspired you to get into the IT/cyber-security industry?
Its such an important and growing field, I thought I could help the most people and companies grow their businesses in this capacity.
2. Describe yourself in 3 words
Resilient, Resourceful, Dedicated.
3. How do you gauge success? What is your favorite part of working within the SMB space?
Success is best gauged by each individual challenge.  For SMBs, the satisfaction of helping them grow, secure and realize their dreams is the ultimate success.
4. What are some of your hobbies outside of work?
I enjoy volunteering in my community and collecting sports memorablia.
5. What's your favorite food?
Nothing beats a good steak!
6. What is your favorite quote and why?
"There is no limit to the amount of good you can do if you don't care who gets the credit."- President Ronald Reagan.  It really encapsulates that doing the right thing should always be the goal and is attainable.  It also reminds me of the spirit of SMBs and organizations binding together to accomplish their goals.
7. What celebrity or historical figure- past or present- would you like to meet over a cup of coffee and why?
George Washington.  Any man that could defeat the worlds superpower, win freedom, spur the birth of a new nation and than give that power up, is special.
8. What is something that most people don't know about you?
I've watched Top Gun Maverick an unhealthy amount of times, lol.