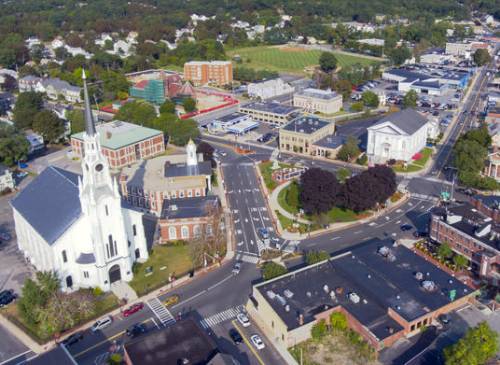 Technology is the key you need to become competitive and stay ahead of other businesses in your sector. In high-tech regions, such as Massachusetts, the competition among companies that leverage technology appropriately is fierce. Making the most of technology for your business in this region is not an option but a way for your company to stay afloat and improve operations.
Business productivity starts with a robust IT infrastructure to support it. However, even in the most technologically literate portions of the country, like the Boston area, many business managers don't have the skills necessary to establish an IT network that will continually provide for the company's needs without surpassing budgetary restraints. Therefore, you should invest in an IT support company that has the knowledge and experience to give you the edge that you need.
For Woburn IT support, our teams offer your business dedicated service in an outsourced format. You don't have to house an entire IT department in your office to get the same level of service. We will setup and maintain your IT infrastructure. Plus, our crews will ensure that the system stays up to date, thus ensuring the highest level of security for your business's IT network.
Why Use TSI's IT Support in Woburn
Our Woburn IT company uses the most effective technology to optimize your business operations without excess.

You know exactly how much you will pay each month for our Woburn IT support services. If you need to make changes, we can work with you and your budget.

Get emergency support for your IT network any day or time with our 24/7/365 help desk.

Our services work proactively to prevent malware infections or ransomware attacks. With data backups, we can keep information loss at a minimum if an attack does happen.

Each business we service gets a unique IT network design. By customizing the IT infrastructure that we set up for your company, we give you an innovative edge with your competition based on your needs today and tomorrow.

Our Woburn IT support teams dedicate their efforts to your business. They are highly trained, knowledgeable professionals.

We provide complete support for all your IT services and products, including mobile devices, cloud computing, vCIO services, data recovery from disasters, and data backup services.
Embrace our outsourced IT support services, which let you run your business while we handle the IT side. Your company can see better productivity, organization, and communications by partnering with our professional teams to provide you with the following Woburn IT services:
Effective IT Network Management
We create and manage your IT network using services and products that will give your business a competitive edge.
Backup Data and Recover from Disasters
Our Woburn IT company backs up your company's data to make disaster recovery less straining on your resources. Even if a disaster disrupts operations briefly, you can still return to full capacity quickly without data loss and minimizing productivity loss.
Improve Network Security
Using our Woburn IT services will ensure that your network has the latest protections against the most pressing security threats.
Leverage Cloud Computing
With multiple migration options, optimization, interoperability, automation, app development, Iaas, PaaS, and SaaS, our Woburn IT support team will ensure that your company uses cloud computing to maximize productivity.
Manage Mobile Devices
Our mobile device security services and management turn your team into a powerful remote operation system for your company.
Maintain Compliance with Government IT Regulations
By tracking and updating your equipment and software to meet federal and industry IT regulations, our outsourced IT support team will keep you compliant, even as regulations change.
What Our Clients Are Saying
"Our business is almost 100% IT dependent which is why for over 15 years we've leveraged TSI's managed services to maximize uptime and minimize downtime. Between the knowledge of their help desk engineers and the insight our account manager provides, we truly feel that TSI is an integral part of our team and contributing factor to our success strategy and continued growth."
Biotechnology Firm / Mansfield, MA