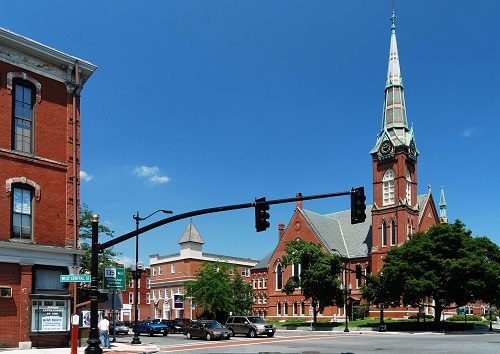 Technology is a tool that all businesses must use in some capacity to continue operations. However, misusing technology or having an unsecure network could create problems instead of solutions. The price for failing to have effective technology is steeper in the Boston-area tech hub. Therefore, you must have an IT support company to offer assistance with setting technology solutions and optimizing them to remain secure and updated as your business moves forward. TSI's Natick IT support services do all these things and more.
Our outsourced IT support team can leverage state-of-the-art services to provide your company with the technological edge that you need to move past the competition. With our teams that provide Boston-area services include Natick and Waltham IT support, we can offer businesses custom solutions that keep up with the latest security and technology advances.
When your business partners with TSI, you get all the tech service and support your company needs letting you and your employees concentrate on working toward business growth.
What TSI's IT Support Company Does for Businesses
Get emergency support whenever you have an IT issue. Our help desk can assist you 24/7. We never take days off, even providing emergency support on holidays and weekends to give you peace of mind.
Our Natick IT support team offers your business individualized service for your IT needs. By providing your company with a dedicated IT team, we ensure that the team members know about your business and technology needs.
Budgets are vital to companies, and we understand that financial considerations play important roles in choosing Natick IT services. We help to meet your needs by tailoring the technology your company uses to your budget.
Monthly spending comes without surprises thanks to our flat-fee technology services and support. We can also work with you and your IT support and services if you have changes that allow for more spending or require cutbacks on tech.
Our Natick IT support covers all forms of technology, including mobile devices, cloud computing, and networking.
We customize all solutions to specific requirements based on your industry's regulations and your business's specific technology needs. Your IT services and support from TSI are unique to your company.
Our Natick IT support makes it possible for you to turn your attention to your business while we optimize your technology and maintain it.
With TSI's outsourced Natick IT support, your business has tailored solutions to your needs that leverage the best in technology to address your technology needs. Trust us to handle the technology while you improve your business.
I
T Service Company Natick Businesses Can Trust
Our team of experienced tech experts can handle the daily tasks of your technology needs while ensuring your system protects against the latest cybersecurity threats. Here are some of the services TSI offers to help your business to grow.
IT Regulatory Compliance
We bring your technology into compliance with government and industry regulations, helping you to have a more secure system and avoid fines for failing to meet regulatory compliance.
Management of Mobile and Other Connected Devices
Our Natick IT support team can manage your mobile devices and electronics to keep them connected to your network and secured.
Building and Monitoring a Secure Network
Most businesses today have networks, but how can you know if your network is secure? With help from our team, you can have an optimized network that is safe to use and securely protects your data.
Managed IT Services
We cut waste by optimizing and managing your technology. When electronic devices, networks, computers, and mobile phones have optimal performance, your workers can accomplish their tasks in less time.
Data Recovery and Backup
Data recovery and backup services can help your company to reduce time wasted in returning to full operations after a disaster. By protecting your data in a secure, remote backup location, we can keep you from losing all your company's information in a disaster that could destroy in-house servers or hard drives.
Migration and Other Cloud Computing Services
Leverage cloud computing with the help of TSI's Natick IT support services. We can set up cloud computing or help with data migration.
What Our Clients Are Saying
"Our business is almost 100% IT dependent which is why for over 15 years we've leveraged TSI's managed services to maximize uptime and minimize downtime. Between the knowledge of their help desk engineers and the insight our account manager provides, we truly feel that TSI is an integral part of our team and contributing factor to our success strategy and continued growth."
Biotechnology Firm / Mansfield, MA