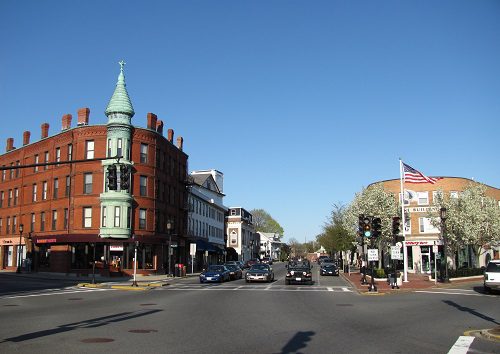 Don't let a poorly developed IT system for your company cause you to fall behind. In Massachusetts, leveraging the latest technology can mean the difference between being competitive or falling behind. Consequently, Boston IT support services are in high demand.
Those in the area can benefit from the same professionalism and expertise of internal IT departments with an outsourced solution. For those in need of Medford IT support, TSI is here to offer the solutions you need without breaking your budget.
By making use of technology that can allow for automation and scalability, companies can see an increase in their profits and productivity. However, finding the right IT support company to offer such services while adhering to the individual needs of the business is difficult.
Discover the difference that TSI's Medford IT support services can make in operations, competitiveness, and security. The right tech can make a difference. Let TSI help with creating and maintaining the tech that your company needs.
Why Select TSI for Medford IT Services
Outsourced IT support with highly skilled technology experts
No billing changes from month to month making budgetary planning easier
IT experts who work with your company's budget and can make changes if you need to reduce spending
Complete IT solutions that include cloud storage, network maintenance, mobile device management, and more
Support for IT emergencies available from the help desk 365 days a year and 24 hours a day
IT solutions that proactively avoid future security problems and protect against current concerns
Customized solutions based on your company's needs with a team dedicated to providing you with IT support
Our Medford IT support solutions offer high-quality services from field experts to give your business the technological boost that it needs to reach the next level.
M
edford IT Support Services
TSI offers a full set of solutions for your IT needs. Below are some of the many services that we can choose from to create your company's tailored IT plan. By partnering with us, you can take advantage of these and other services to give your company an edge in the marketplace, improve productivity, and become more secure with your data.
Cloud-Based Services  
Migrating to the cloud or implementing cloud-based services can reduce the need for local servers and storage. Our IT professionals can help your company make this migration. Using cloud computing solutions can help to save money and increase remote worker productivity.
Compliance with IT Regulations
IT regulations put forth by industries and governments must be met to avoid fines and security problems. Our team can find and fix anything in your system that does not meet your federal, state, local, and industry IT regulations.
Data Backup and Aid in Data Recovery After a Disaster
Planning for a disaster before it happens is the best way to begin recovery. Our data backup and disaster recovery services protect information that your company needs to get back into operation after an incident. Following a disaster, every day matters in restoring your business. With our data backup and disaster recovery services, you can avoid lost data and return to business fast.
IT Services Management
Our professionals with TSI tailor technology solutions to your company. By managing IT services, we can ensure that your technology works for your business. By finding and fixing problems, we improve the efficiency of your technology, reducing wasted time and money.
Network Security Creation and Monitoring
A secure network forms the basis of all modern businesses. However, network security requires more than simply setting up the system. Our Medford IT support professionals can also help to maintain the security of your network after setting it up, ensuring continuous data protection.
Portable Electronic and Mobile Device Management
Because many companies use portable electronics or mobile devices as part of their operations, our IT experts can help you to manage these on your network. By securing portable devices connected to the network, we can prevent the convenience of these electronics from becoming security problems.
What Our Clients Are Saying
"Our business is almost 100% IT dependent which is why for over 15 years we've leveraged TSI's managed services to maximize uptime and minimize downtime. Between the knowledge of their help desk engineers and the insight our account manager provides, we truly feel that TSI is an integral part of our team and contributing factor to our success strategy and continued growth."
Biotechnology Firm / Mansfield, MA